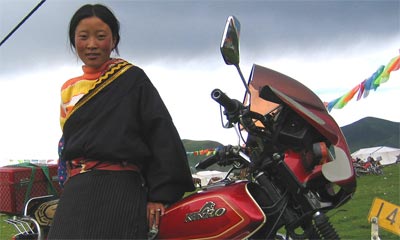 Vista assists the Tibetan nomadic community of Sershul County in adjusting to urban living, helping them develop vocational and business skills to support their economic livelihood.
The training schemes are personalised and highly focused, aiming to develop practical skills and confidence. These training programs can run all year round, even in the harsh winter months, using Vista's premises/accommodation, training rooms and workshops.
Because 75% of adult Tibetans in the area are illiterate, it was necessary to find jobs which didn't rely on reading and writing.
Motorbike Mechanic Apprenticeships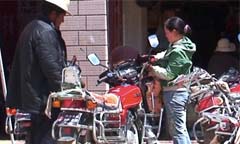 The growth in the Chinese economy has resulted in a huge increase in the number of motorbikes in Kham. Repair and maintenance of these bikes is a key service which is easily learned and provides immediate job opportunities.
To take advantage of this situation, Vista has created an apprenticeship scheme. It has been temporarily based in Junyong village, but will soon move to our custom-built Mechanic Training complex in Sershul
Greenhouse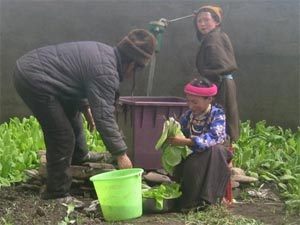 The management team of Vista had the idea to grow vegetables locally. The high altitude, thin air and harsh climate make horticulture outside very difficult. After investigating several projects across China they decided to construct a greenhouse. It has stone walls, a metal framed roof and polycarbonate plastic ventilated roof panels and was built using local Chinese and Tibetan workers. Three people are learning to grow the vegetables which are being used to prepare nutritious meals for local schoolchildren.
Micro-finance initiative
In addition to the restaurant, Vista has helped other small businesses in the region with micro-finance loans.