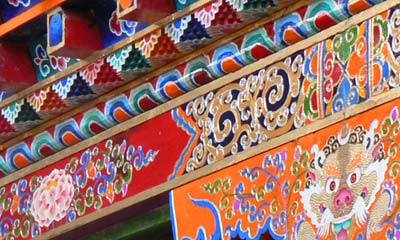 The design, construction and decoration of the ornate and elaborate Tibetan buildings was developed in a society without machinery and is still the preserve of skilled artisans. Maintaining this skill base is essential to the preservation of Tibetan culture.
A worldwide fascination with Tibet, and the nationwide reconstruction of religious buildings has created an increasing demand for these skills.
Art School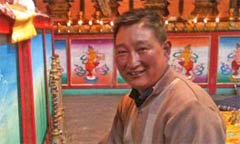 Construction of Vista's new Art School and Mechanic Training complex is well under way. Once completed, the ground floor will house a classroom for Tibetan art.
The teacher for the art school originates from Repkong, an area famous for its Tibetan College of Arts.
He has been based at the famous Kumbum Monastery in Amdo, but out of reverence for Jamgon Mipham Rinpoche agreed to come and give painting instruction at Ju Mohor Monastery.
As soon as the new building has been completed, the teachings will continue in the new classroom. Students will be hosted in our hotel while the teacher will live in the new extension.
Training Programmes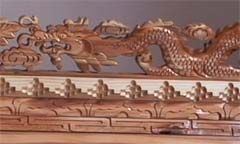 Vista is helping to ensure these traditions are passed on to a new generation of craftspeople by providing training programmes in the arts of carpentry, stonemasonry and thangkha painting.
Although many of these people cannot read or write, the traditional teaching methods of Tibet have allowed them to learn these skills. This has not only given them a livelihood but self confidence, dignity and a renewed sense of purpose.